So I'm getting in on the tail-end of this one... but it looks like too much fun to pass up... Lynnette @
Dancing Barefoot on Weathered Ground
is hosting the
Harvest of Friends Blog Party
this week.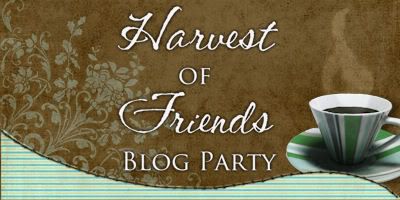 And she provided...
20 Weird Questions
That Will Give a Little Insight Into Who I Am
1. What is your favorite thing to snack on while you're blogging?

2. What is one thing you wouldn't want to live without?
Contact lenses. My glasses prescription is so strong I can't imagine having to wear glasses all the time.
3. Beach, Mountains or Farm? Where would you live if you had a choice?
Mountains. I love the tall trees, the crisp air, the wildlife, the view...
4. What's your least favorite chore/household duty?
5. Who do people say you remind them of?
6. Prefer parties and socializing or staying at home with the fam?
Staying home. Definitely. I'm not a big socializer.
7. What's your all time favorite movie?
8. Do you sleep in your make up or remove it like a good girl every night?
9. Do you have a hidden talent or a deep desire to learn something that you've never had a chance to learn? What is it?
I have always wanted to learn to spin... but I have far too many hobbies as it is, to justify spending the money to try something new. I would also like to learn to make bobbin lace, but haven't for the same reason.
10. What's one strange thing you're really good at?
Reading aloud. I don't know. Is that strange? Maybe a little?
11. What first attracted you to your spouse?
12. What is something you love to smell?
Clean sheets fresh off the clothesline.
13. Tell something about you that you know irritates people.
Well, now, if I knew it irritated them I wouldn't do, would I?
14. When you have extra money (HA!) what's the first thing you think to do with it?
15. Are you a silent laugher or a loud laugher? What makes you laugh the hardest?
I usually just smile. Something has to really strike me funny to make me laugh hard. Odd-ball and quirky things make me laugh.
16. Where is your favorite place to shop?
Depends on what I'm looking for. Kohl's is probably my favorite department store.
17. What's one thing you'd do more often if you had more time?
18. Are you a big spender or frugal?
19. Who is your favorite character of all time (from a movie or book)? (Can't be real)
20. Would you want to be famous?