Penny @
Knee Deep in Grace
nominated me for the Stylish Blogger Award. This is one of those "pay it forward" type awards. I'm honored Penny thought of me. Thank you, Penny!
The rules are to share 7 things about yourself (which I've done before
here
and
here
and
here
and
here
!), and then to share 15 recently discovered, great bloggers to receive this award. Here's where I'm going to have to fall down on the job. I just haven't had time to explore and discover new-to-me blogs this winter. I haven't even been able to keep up with all the blogs that are already on my blog reader. Instead, I'm going to name the last 15 bloggers who commented on one of my posts. If you see your name on my list and would like to accept and pass along this award, please do! Those of you who have taken the time to keep up with my hit-and-miss posting the past few months and to encourage me with your comments are definitely what I would call "bloggers with style"! So there ya go!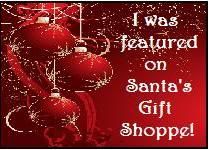 And then... Barb at
Santa's Gift Shoppe
notified me that she was featuring my little
baby booties
on her blog. She thought maybe they were tatted, but no, they are crocheted. I can see where it would be confusing, though, as I showed a small tatting project on the same post. Thank you for featuring me, Barb!