This past week at work was a lot of fun... as well as pretty intense... with our annual Sonlight Training Conference with the convention rep team for the upcoming
homeschool convention season
. Our reps come from all over the country. I've worked with a lot of the same ladies over the years and have made some good friends, so it was great to see them again, as well as meet our new reps. We laughed, enjoyed good food.. and learned a lot.
I used to fly in for this event, but this year I got to help organize it. Even with all the extra work this time, I came away excited about the upcoming convention season, as I always do. My first convention will be in
Loveland, Colorado
on March 13 and 14. Lots to do between now and then!
Something else fun is going on at work as well. Sonlight is celebrating their 25th anniversary this year, and they have several exciting events lined up throughout the year. The celebration will be kicking off with a free online event
this coming Thursday evening
featuring Sonlight's founder and owner,
Sarita Holzmann
, as well as guest speakers,
Heidi St. John
and
Crystal Paine
. This event is called
Inspire 25
and will include some great
PRIZES
as well as inspiring sessions. I'll be there. I hope you'll join me!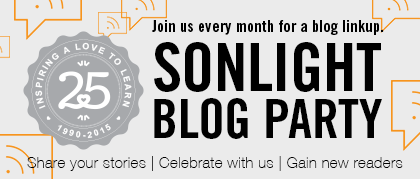 And then, the other thing I'm involved in is
Sonlight's year-long blog party
. On the 25th of each month I'll be joining up with other homeschool bloggers to share my stories with a different topic each month. If you blog I encourage you to join the party. Again, there will be
PRIZES
! Plus, it's a great way to gain new readers.
Looking forward to a great year!