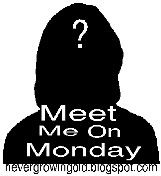 Joining in the
Meet Me on Monday blog hop
at Never Growing Old...
1. Do you have any New Year's resolutions?
I didn't really make any formal resolutions, but I'd to be more consistent about exercising this year. I have several audio books I'd like to listen to, so hopefully that will motivate me to get back on the treadmill.
2. What food item are you craving right now?
Ice cream. My daughter served chocolate ice cream topped with berries yesterday. Another dish of that sounds delicious at the moment.
3. When is your birthday?
Sometimes it falls on Thanksgiving!
4. What were you doing an hour ago?
Doing some work on the computer.
5. Last thing you cooked?
Chicken/Andouille Gumbo Saturday night for supper. My family loves gumbo! I should make it more often.